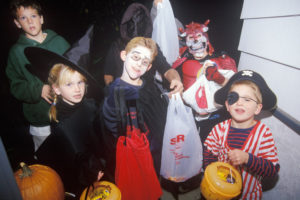 Halloween can be a fun and exciting time for kids. These safety tips for parents, children and homeowners will help keep everyone safe and happy this Halloween.
Exercise caution when using masks. Masks make it hard for children to see what's around them, including cars. Try a hypoallergenic non-toxic make-up kit instead.
Make or buy costumes in light-coloured material.
Place strips of reflective tape on the back and front of costumes, so that drivers can better see your child.
Purchasing glow necklaces at the dollar store can also help to illuminate your child.
Costumes should fit properly to prevent trips and falls. Avoid items such as oversized shoes, high heels, long dresses and long capes.
Dress your child for the weather. Add layers if needed.
Put your child's name, address and phone number on his costume.
Remove make-up before bedtime to prevent possible skin and eye irritation.
Check the contents of your child's bag to ensure that everything is okay
If your child is going out without an adult:
Make sure your child is in a group of at least 3 people. Ensure that children always stay together and never leave one member on their own.
Give them a flashlight. A cell phone is also a good idea if you have one.
Discuss in advance the route they should follow. Ask them to call you if they plan to go on a street that isn't on the route.
Set a curfew (and make sure they have a watch with them).
Tell your children not to eat anything until they get home.